I can't say this quite often, but Apple harmonized a full Wes Anderson vogue in their latest "Spring Loaded" launch event. Apple's iMac 24 (2021) is the latest groovy piece of tech that hints at the coming leap of approach in Apple's design, performance and plan of action. Let's see in detail what specifications does the new iMac envelopes, along with the speculated price and launch date in India.
iMac 24 (2021) Specifications:
Design & Build: Aluminium Build, 21.5H x 18.1W x 5.8D-inches, 4.48kg
Colour options: Blue, Green, Pink, Silver, Yellow, Orange, Purple
Display: 23.5-inches 4.5K Retina Display, Wide Colour (P3); 500nits
Resolution: 4.5K (4480 x 2520) resolution, True Tone technology, 16:9 aspect ratio, 218ppi
Keyboard: Apple's Magic Keyboard (scissor-switch), 1mm key travel
Processor: Apple's M1 Chip (8-core CPU, 7/8-core GPU, 16-core Neural Engine)
RAM: 8GB/16GB unified memory
Storage: 256GB/ 512GB SSD (configurable up to 2TB)
Graphics: Integrated M1 chip (8-core/ 7-core)
Audio: Hi-Fi six-speaker system, Spatial Audio (Dolby Atmos), 3x studio mics
Power Supply: DC-in, 143W magnetic-adapter
Webcam: 1080p HD FaceTime camera
Connectivity: WiFi 802.11 ax (WiFi 6), Bluetooth 5.0
I/O ports: 2 x USB-4/Thunderbolt, 3.5mm audio jack, 2 x USB-3 (optional), 1x Gigabit Ethernet (optional)
Accessories: Magic Keyboard (for Varient-1), Magic Keyboard with Touch ID (for Varient-2), Magic Mouse
Price in India: See here
iMac 24 (2021) Overview:
Design & Build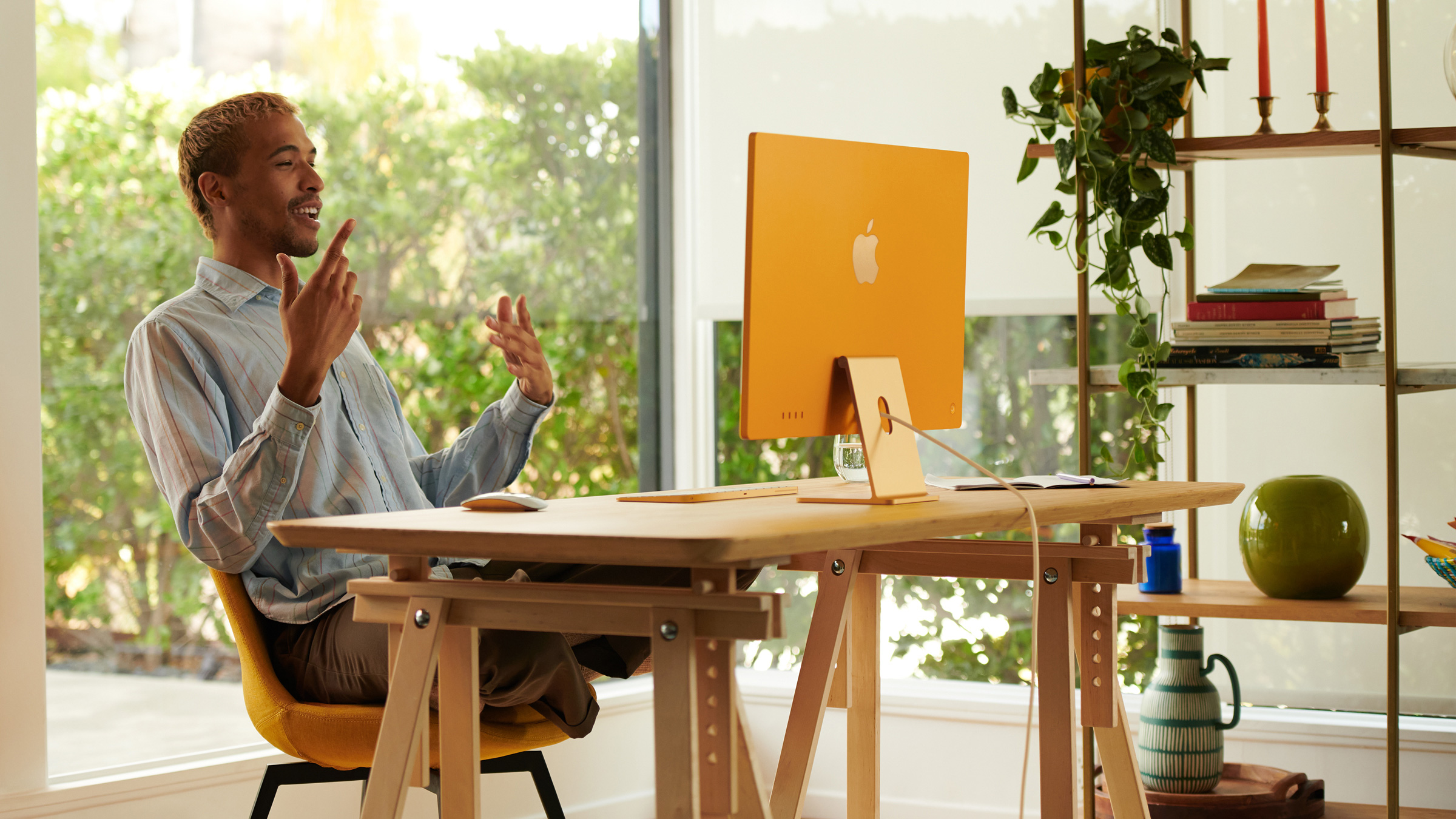 The iMac 24 is an engineering transcendence into the zenith. It couldn't get any more compact; from thinner to thinnest, iMac 2021 is now 50% more concise than the previous build. It embraces an 11.5mm slender aluminium body, weighing just about 9.83 pounds, and faceting a flatter and more material look this time: all thanks to the in-house M1 chip.
Since the new M1 chip is a microprocessor SoC, Apple wasn't limited by the space required for each component on the logic board. The RAM, the GPU, the controller hub; subsequently, a more extensive cooling system needed for the intel chipset which made the previous iMac convex (at the back). Thankfully, the new M1 chip-size averted all the snags that the previous iMac had to support. Therefore, resulting in a very compact logic board that could be squeezed inside the chin of the display, making iMac slimmer than ever.
iMac 24 comes delightfully in 7 different colours- blue, green, pink, silver, yellow, orange, and purple (iMac G3 flashbacks). While the rear body rocks these really pungent primary colours, the front is toned with their pastel version, making them go easy on the eyes. To say the least, iMac 24 is the most exuberant and playful iMac we have seen in a while.
The iMac 24 also maintains a tilt-adjustable hinge, supported by the foot, that is now sharpened to appear slim.
Display
The new iMac houses a 24-inch 4.5K Retina display. The display caps at 500nits of brightness, with 218 pixels per inch. It, as usual, is equipped with Apple's True Tone technology, which automatically adjusts the colour temperature according to the ambient light. Besides, it is also succoured by P3 wide colour gamut to produce good colours.
Apart from these usual traits, what is peculiar about the new iMac is its choice of frontal design. The phizog of the latest iMac is characterized by a huge chin, added with the abnormality of the white bezels, which, in my opinion, adds nothing but horror to the contours (classic Apple and their peculiar design choices). The white bezels might have been opted so as to compliment the pastel colours, as black would have added too much contrast? Also, if you are wondering, there is no logo on the chin anymore.
CPU & Performance
The new iMac is powered by Apple's own M1 chip. Even though it was rumoured to come equipped with an upgraded M1X, the rumours remained rumours, after all.
Apple has stated that the new iMac offers up to 85% faster CPU performance, 2x faster GPU performance, and 3x faster machine learning than the previous one. The iMac 24 also comes in two processor variants:
Variant-1
Variant-2
—    8-core CPU with 4 performance cores and 4 efficiency cores

—    7-core GPU

—    16-core Neural Engine

—       8-core CPU with 4 performance cores and 4 efficiency cores

—       8-core GPU

—       16-core Neural Engine
The base memory of the new iMac is 8GB (configurable up to 16GB). For storage, you can opt-out for either 256GB or 512GB, which is further configurable up to 2TB.
Read: Apple Transition & The New M1 Chip: Explained!
With the new M1 chip, you also get the perks of instant wake, quicker app launch, fluid app switch, better browser performance and so on.
Besides, iMac 24 runs on the latest macOS Big Sur, which is optimized for seamless interaction across new iPhones and iPads. Also, since the new ARM-based M1 chip mutually shares the same DNA with the new iPhones, you can run all of your phone apps on iMac now.
Ports, Speakers & Other Features
The new iMac consists of 4 USB-C ports, two are thunderbolts, and the remaining are USB-3. Also, the company has facilitated a 3.5mm headphone jack for audio, which is on the side now. Similarly, there is an option for a Gigabit Ethernet port too. However, the cheaper variant misses the USB 3 ports and LAN connection. There is a power button that enables you to switch the new Macintosh on and off manually at the parallel end.
Apple has also introduced an all-new power connector with the new iMac. The power connector is 2m long, attaches magnetically, and braided with fibre that compeers the iMac's colour. Into the bargain, there is a port for ethernet cable on the power adapter now. It is far cleaner and reduces cable clutter. But it would be best if you weren't surprised as it is additional and doesn't default with variant-1. (Apple being Apple)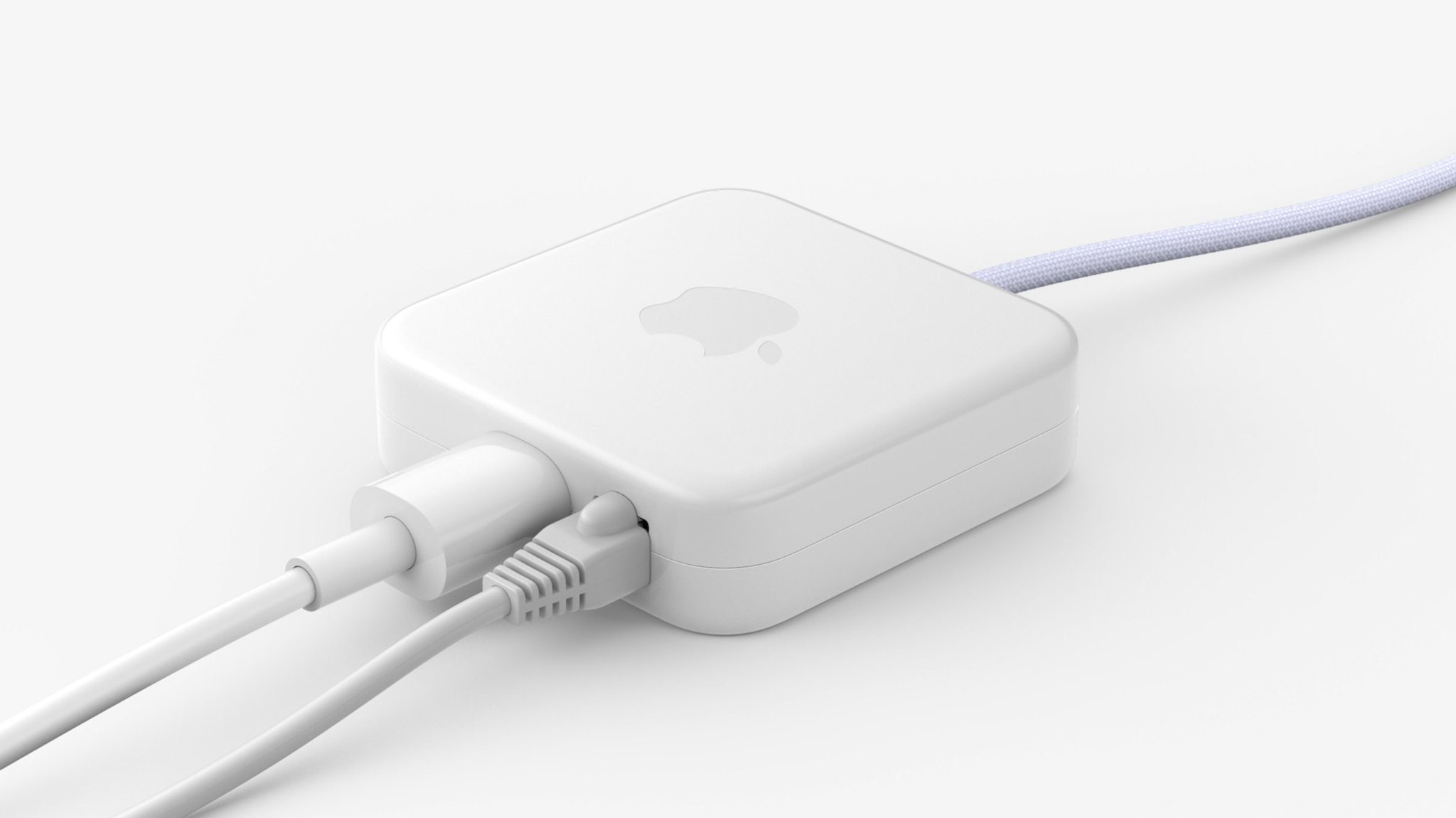 Now talking about the cameras, iMac 24 houses a 1080p FaceTime HD camera which is boldly stated to be the best in a Mac. The camera also utilizes the ISP (Image Signal Processing) and Apple's Neural Engine to enhance the camera image quality and perform better in low light. The machine also accommodates an array of three studio-quality mics for calls and recording. Furthermore, the new iMac also supports the "Hey Siri" command for voice interaction.
The iMac 24 also comes with an amended media output for audio. It accustoms two pair of force cancelling woofers, placed side by side, for the bass response, which is balanced by the adjacent tweeters to produce immersive audio. The speakers support spatial audio with Dolby Atmos.
Also, while we are at it, the new iMac comes with colour-matching accessories too. To talk about is the keyboard, nonetheless. The new Magic keyboard, as a regular, now features an Emoji key on the lower left along with Spotlight, Dictation and Do Not Disturb keys on the function row. The edges are further bevelled. The lock key is now replaced with a Touch ID sensor (for high-end variant). It transmits your fingerprint data wirelessly through the chipset (inside) using a secured processor that communicates directly to Apple's Secure Enclave. This integration makes online payments and sign-ins a bit easier now.
Read: 50 of the Most Handy Keyboard Shortcuts for MacOS [Safari Included]
Price & Availability

iMac 24 (2021) will be available for pre-orders starting this April 30. The shipments are to be ready by the second half of May. The prices are listed below:
Variants
Storage
Price
iMac 24, Variant-1
256GB
Rs. 1,19,900
iMac 24. Variant-2
256GB
Rs. 1,39,900
512GB
Rs. 1,59,900
Also See:
Tech enthusiast and a movie fanatic.