Realme has been working its fingers to the bone lately, aiming to establish itself as India's most extensive lifestyle brand. They have been releasing products after products that range from smartphones to lifestyle and AIoT accessories.
As per their 1+4+N Product Strategy, Realme Buds Air 2 were scheduled for announcement in the first quarter of 2021. And, without much delay, the curtains have been raised. Realme has finally unveiled the all-new Realme Buds Air 2, alongside their budget-friendly Realme Narzo 30 series.
Realme Buds Air 2
Realme Buds Air 2 is a TWS earphone that sports active noise cancellation technology and good audio drivers at a budget-friendly expense. They are quite economical, so you won't have to break your bank to get one of these. This is also a partnership between Realme and the famous EDM pair, The Chainsmokers.
Build, Design & Fit
Realme Buds Air 2 feature an in-ear design that looks completely flamboyant. They sport a groovy "two-tone colour splicing design" that is quite modish but does not overstress the overall aesthetic. They are constructed out of plastic material, and the legs of the earbuds have a sheen coating on them that makes them shiny and lustrous.
The Realme Buds Air 2 weighs as light as an A4 sheet of paper. A single earbud weighs around 4.1gm, and the overall case hefts about 42.7gm (with the earbuds inside). Talking about the fit, the buds Air 2 emanate from an ear-canal design, so you can expect them to be quite snuggly around your ear. Not to mention, they also come packed with three interchangeable ear tips ranging from X, M and L so that you can use them as per your fit.
Realme Buds Air 2 comes in two colour options: Closer Black (black colour with blue gloss) and Closer White (white colour with a silver shine). The name is incited from Chainsmoker's single, Closer.
Sound Quality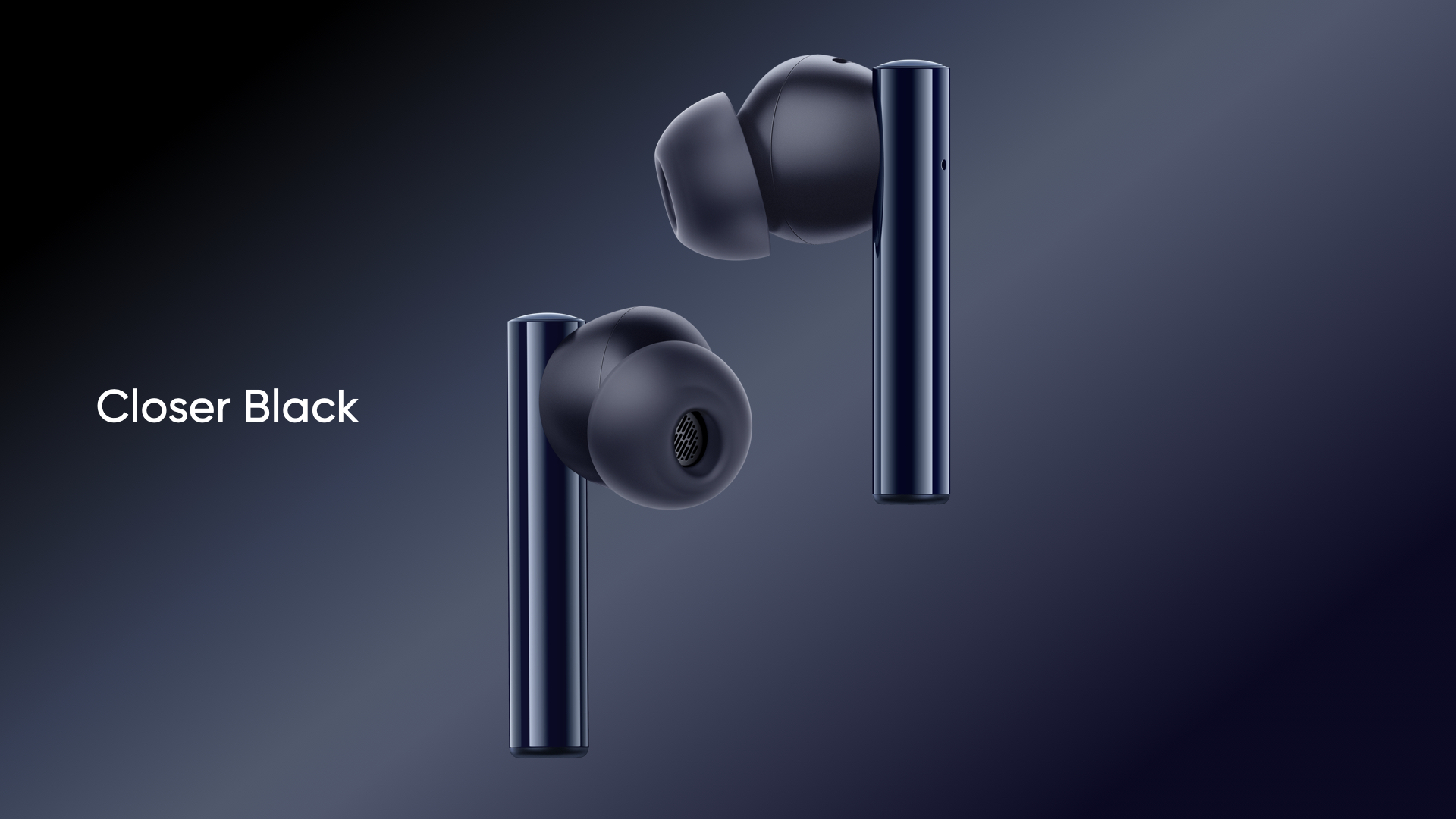 The Realme Buds Air 2 use an all-new 10mm DLC Driver for audio transmission. The DLC driver bears a Diamond-like Carbon (DLC) coating on the diaphragm to make them stronger and more corrosion resistant. Plus, the DLC driver, as stated by Realme, asserts that the new earbuds have richer sound quality, more resonant bass production, and higher frequency response.
Since this was a special collaboration, the Buds Air 2 are tuned by Chainsmokers. They have introduced a new Bass Boost+ mode that you can use for the emphasized bass experience. Besides, Realme has also added two new Audio profiles in their propriety Link App, namely:
Dynamic: controlled mids and treble + boosted lows
Bright: bass boosted + emphasized vocals
Watch: Oppo Enco X TWS Earbuds: Premium All Around!
Active Noise Cancellation
The diadem, the buzz and the hype of Realme Buds Air 2 is the Active Noise Cancellation feature alone. The earphone is equipped with Realme's custom R2 chip which is responsible for the processing of Active Noise Cancellation. The features of new R2 chip is:
Increased performance
Reduced power consumption
Stable connection
ANC is largely referred to as a flagship-feature that is often affixed with an expensive earphone. So, Kudos to Realme for putting an effort to normalize ANC amongst the budget-demography. Still and all, how does it perform?
The Realme Buds Air 2 advertises an Active Noise Cancellation up to 25db. Therefore, with a perfect fit, you can expect some buzz and noises to be isolated from the background. Faint noises from library, people talking by, noises from ceiling fans and birds chirping- noises similar to these. However, the loud noises in traffic, the construction sounds, people shouting, or an airplane passing by can still be heard.
The earphone has a specific touch-response to trigger ANC. You have to hold on to both the earbuds for 2s to trigger ANC. The switch can also be used to pedal between Normal Mode, Transparency Mode and ANC mode.
To give you a perspective, here is the relative noise/loudness expressed in decibel under various environment:
Noise Sources and their Measurement 

Breathing
10 dBA
Whispers heard a meter away; light wind in trees.
20 dBA
A low-voice conversation.
30 dBA
Library, refrigerator, a quiet street at night
40 dBA
Moderate rain, washing machine.
50 dBA
Normal conversation.
60 dBA
Busy street, vacuum cleaner
70 dBA
Drill, chainsaw, motorcycle.
100 dBA
(Source: www.quebc.ca)
There is nothing really viable to tell regarding the implementation of ANC without actually testing it in real life.
Battery & Charging
Realme Buds Air 2 are engineered to yield enough sound for 4 hours of continuous usage. The battery life of the earbuds + case extends far enough to give you a 25hrs of combined usage. However, if you are going to use ANC, the number subtracts down to 22.5hrs, which is still not bad.
Realme has not stated any concrete numbers for their battery capacity and charging. However, they have remarked that a 10min of charge can revive 2 hours of continuous playback time for the earphones. The charging case utilized USB Type-C for charging.
Touch Controls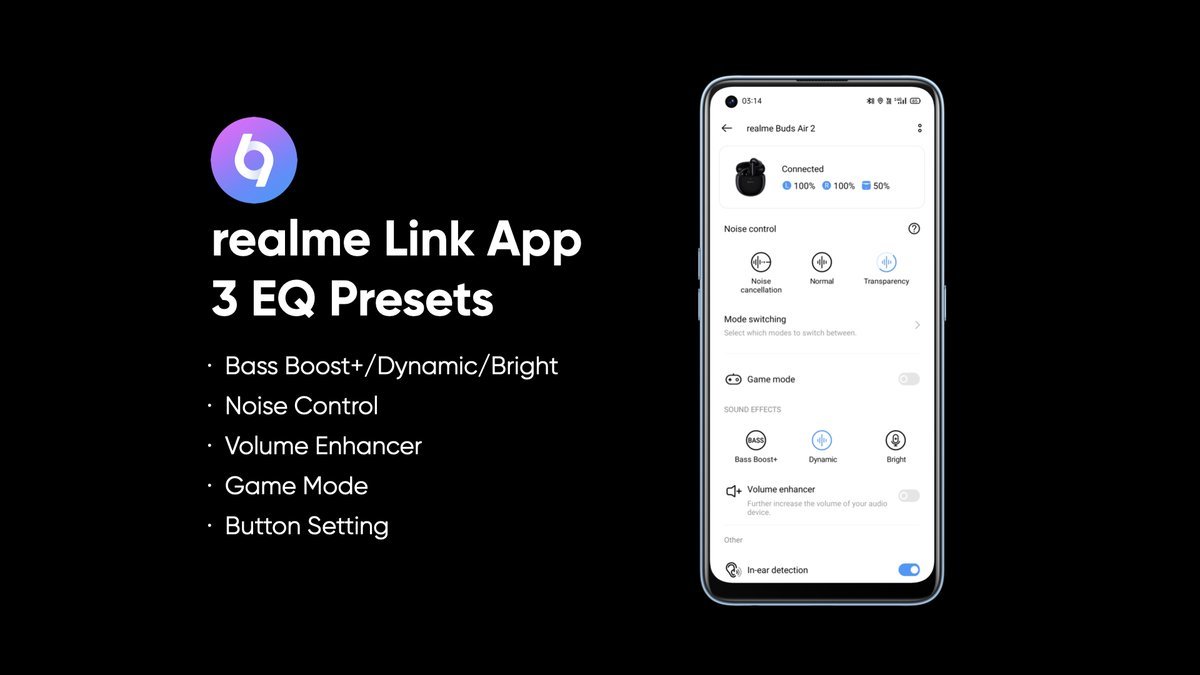 Since Realme Buds Air 2 has touch controls, the playback settings work on the basis of touch response. Here are the default settings for the earbuds:
Double Tap: Play/Pause media, Answer Calls, Hang Up calls
Triple Tap: Next Track
Long Press on single earbud: Reject Calls
Long Press on both earbuds: Switch between ANC and Transparency Mode
Other Features
The Realme Buds Air 2 offers a colossal set of features that you would anticipate in any pair of earphones. To highlight are the IPX4 water resistance, Environmental Noise Cancellation (utilizes 2 microphones to reduce background noise during calls), Transparency mode (enhances ambient noise to hear what's happening in the background), Smart Wear Detection, Google Fast Connect (for quick connectivity), Gaming mode (88ms low-latency) and IPX5.
The Realme Buds Air 2 also comes equipped with the latest Bluetooth 5.2 and support dual-channel transmission for spontaneous and uninterrupted connection.
These features are accompanied by other various customizations through Realme's propriety Link App. Through Realme Link, one can customize button functionality, switch between different modes and even get updates for ANC algorithms and technology.
Read: Realme Buds Wireless Pro: Active Noise Cancellation & Hi-Res Audio Now
Full Specifications:
Build: In-ear Earphone, 4.1gm (each)
Driver: 10mm Diamond-like Carbon driver (DLC)
Chipset: Realme R2 chipset
Connectivity: Bluetooth 5.2 (up to 10 meters)
Noise Cancellation: Active Noise Cancellation (up to 25db), Environmental Noise Cancellation
Charging Speed: 2hrs (case + earbuds), 1hr (earbuds)
Playback Time: 22.5hrs (ANC-on, AAC, 50% volume), 25hrs (ANC-off), 4hrs (earbuds alone)
Audio Codecs: AAC, SBC
Water Resistance: IPX5 water resistance (earbuds only)
Companion: Realme Link app
Colors: Closer Black, Closer White
Price and Availability
The price is where the things get interesting. Realme has done a tremendous job in not over escalating the price, and aiming the earbuds for general demography. The Realme Buds Air 2 will hit the market by March 2 and will be available for purchase through Realme's official website and Flipkart initially.
| | |
| --- | --- |
| Earphone | Price in India |
| Realme Buds Air 2 | Rs. 3,299 |
Final Verdict
Well, if you are in search of good earphones, it becomes quite a no brainer to opt-out for Realme Buds Air 2. They are voguish, and they offer excellent sound quality with stable battery life. But, most importantly, Realme Buds Air 2 wear active noise cancellation technology at a very wallet-friendly price, which makes the deal even sweeter.
---
Comparably Priced Wireless Earphones
| | |
| --- | --- |
| Wireless Earphones | Price in India |
| Realme Buds Wireless Pro | Rs. 3,999 |
| Oppo Enco M31 | Rs. 2,190 |
| OnePlus Buds Wireless Z | Rs. 2,999 |
Tech enthusiast and a movie fanatic.