Realme Buds Wireless Pro
Following the announcement of Realme 7i and their 4k TV under "Leap to Next Gen" launch-event, the Chinese OEM manufacturer unveiled their latest noise-cancelling earphones- the Realme Buds Wireless Pro.
Realme Buds Wireless Pro is a supposed "premium" upgrade over the company's early Realme Buds Wireless. The pro-variant traits Active Noise Cancellation technology along with High-Res Audio over Bluetooth 5.0. Tipping that with a budget friendly price, these earphones are envisaged to compete with Oppo Enco M31 and Bullets Wireless Z from OnePlus.
An attempt by the brand to normalize ANC in an economical gamut, let's see what they postulate in terms of specifications.
Design & Build
The earphones are sporty neckband featuring a flexible rubberized material. While the rubber constructs most of neckband, the earphones also make use of plastic + metal for its construction. The earbuds and the module for in-line control are made of metal chassis. So, in terms of durability, the earphones should get you through one rough day.
For the looks, Realme seems to have ditched the samey and overseen black/white single colors. Rather, these earphones pull off the unconventional black & yellow color scheme. And, I must say, they are quite a swagger. Realme Buds Wireless Pro also comes in a single-tone Disco Green color variant.
About the buds, they skite a glossy + matte dual finish. They are magnetic in nature and therefore, help them keep intact. The forepart of the earbud is made of brushed circular metal, while the other side embodies plastic. Realme Buds Wireless Pro is soft to touch and weigh about 33 grams.
Buttons & Control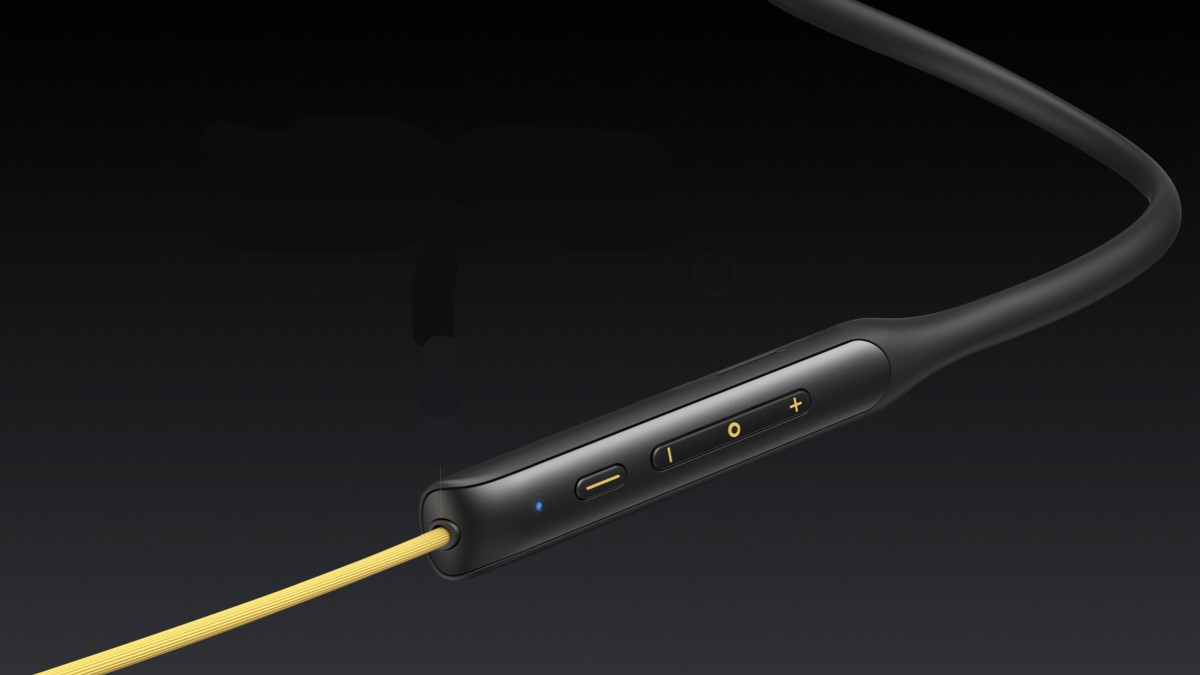 As far as the buttons go, all of them are lined inside a metal bracket under the neckband. Even though the controls are on the neckband itself, it would be tad-bit convenient if they were on wire instead. They are tactile and attribute an accented symbol to each.
The buttons on the Realme Buds Wireless Pro include a play/pause button, a volume up, a volume down and an ANC button. They all lie streamlined on the right side of the neckband. A USB- Type C charging port is also included alongside, under a plastic flap.
To note is the fact that there is no power-button. The magnetic earbuds act as a power switch itself. When the magnetic earbuds are released, the earphone turns on. Whereas, upon attaching them together turns the earphone off.
Sound Quality
To be precise, the new earbud houses a 13.6mm sound-driver. Thus, you can expect a decent sound quality with good amount bass as the larger 13.6mm driver provides enough travel for the diaphragm. In addition, the advanced Dynamic Bass Boost (DBB) technology integrated inside the earphones enhances the overall bass experience. However, it is pretty much evident that the sound quality would not be natural with original sound stages for it is tempered by default. However, it may suit the Bollywood songs, EDMs and bass heavy gigs.
Realme Buds Wireless Pro supports Hi-Res audio quality sported by LDAC codec. LDAC is a closed source lossy audio coding solution developed by Sony originally for Xperia handsets. Later it was open (AOSP) to all OEMs supporting Oreo and up. Hence all devices running Android Oreo and up support the LDAC codec.
Read: LDAC: Everything You Need To Know!
Active Noise Cancellation
The diadem, the buzz and the hype of Realme Buds Wireless Pro is the Active Noise Cancellation feature alone. The earphone is equipped with Realme's custom S1 chip which is responsible for processing of Active Noise Cancellation.
ANC is largely referred to as a flagship-feature that often affixed with an expensive earphone. Kudos to Realme for putting an effort to normalize ANC amongst the budget-demography. Still and all, how does it perform?
The Realme Buds Wireless Pro advertises an Active Noise Cancellation up to 35db. Therefore, with a perfect fit, you can expect some buzz and noises to be isolated from background. Faint noises from library, people talking by, noises from ceiling fans and birds chirping- noises similar to these. However, the loud noises in traffic, the construction sounds, people shouting or an airplane passing by can still be heard. Also, it is reported that the entire sound profile of earphones is changed once the ANC is turned on.
The earphone has a dedicated button to trigger ANC. It is located right below the volume controls. The switch can also be used to pedal between Normal Mode, Transparency Mode and ANC mode.
To give you a perspective, here is the relative noise/loudness expressed in decibel under various environment:
Noise Sources and their Measurement 
Breathing
10 dBA
Whispers heard a meter away; light wind in trees.
20 dBA
A low-voice conversation.
30 dBA
Library, refrigerator, a quiet street at night
40 dBA
Moderate rain, washing machine.
50 dBA
Normal conversation.
60 dBA
Busy street, vacuum cleaner
70 dBA
Drill, chainsaw, motorcycle.
100 dBA
(Source: www.quebc.ca)
There is nothing really viable to tell regarding the implementation of ANC without actually testing it in real life.
Battery & Charging
The Realme Buds Wireless Pro shelters a 160mAH battery inside. With the ANC feature turned on, users can expect up to 16hrs of battery life. Turning the ANC off, battery life takes a leap by 6hrs; leading to a playback of 22hrs in total.
Similarly, the earphones feature a USB Type-C port for fast-charging. The company has said that the earphones take 1.5hrs to fully charge from 0-100%. Meanwhile, a 5min of charge can assure you a 100 minutes of music playback.
The Realme Buds Wireless Pro does ace in terms of battery life and charging.
Other Features
The Realme Buds Wireless offers a colossal set of features that you would anticipate in any pair of earphones. To highlight are the IPX4 water resistance, Environmental Noise Cancellation, Transparency mode (enhances ambient noise to hear what's happening in background), Google Fast Connect (for quick connectivity), Gaming mode (119ms low-latency), Seamless Device Switching (double tapping the ANC button).
These features are accompanied by other various customizations through Realme's propriety Link App. Through Realme Link, one can customize button functionality, switch between various modes and even get updates for ANC algorithms and technology.
Watch: Oppo Enco M31 Review: Better than OnePlus Bullets Z?!
Full Specifications:
Type: In-ear Neckband
Driver: 13.6mm (Bass-boosted)
Chipset: Realme S1 chipset
Connectivity: Bluetooth 5.0 (up to 10 meters)
Noise Cancellation: Active Noise Cancellation, Environmental Noise Cancellation
Battery: 160mAh, Fast Charging (Type-C, 1.5hrs)
Playback Time: 16hrs (ANC-on, AAC, 50% volume), 22hrs (ANC-off)
Audio Codecs: LDAC, AAC, SBC (Hi-Res Audio Certification)
Controls: Play/Pause, Volume +, Volume -, ANC button (customizable)
Water Resistance: IPX4 water resistance
Companion: Realme Link app
Colors: Party Yellow, Disco Green
Price & Availability
Realme Buds Wireless Pro will go on sale starting October 16 in India. It will be available for purchase through their official website and tied vendors. Realme has also extended Diwali Sale wherein the earphones will be available for Rs. 2,999.
| | |
| --- | --- |
| Earphone | Price in India |
| Realme Buds Wireless Pro | Rs. 3,999 |
Final Verdict
To say as it is, Realme has done an exceptional job in extruding itself from conventional wireless earphones that are available in similar price-bracket. For the price of Rs. 3,999, one gets nimiety of features like ANC, Hi-Res audio, Water Resistance, Low-latency mode and a stamped 22hrs of battery life. I think it is commendable in itself.
However – always a however – if you are not a fan of ANC and your solid precedence relies on sound quality, you may want to consider Oppo Enco M31. It is truly a stellar piece of tech by Oppo; arguably the best audio device for its price-being. Unbuttoning that, Realme Buds Wireless Pro is quite a deal for Rs. 2,999 and regular. If you are not an audiophile, you may just get it.
---
Comparably Priced Wireless Earphones
| | |
| --- | --- |
| Wireless Earphones | Price in India |
| Realme Buds Wireless Pro | Rs. 3,999, buy here |
| Oppo Enco M31 | Rs. 2,190, buy here |
| OnePlus Buds Wireless | Rs. 2,999, buy here |
Tech enthusiast and a movie fanatic.