LDAC is an audio codec which is becoming popular as more and more headphones/ earphones support it. Recently Oppo launched their Enco M31 wireless earphones and they come with support for LDAC. LDAC support needs to be present on your phone too. Hence here is everything that you need to know about LDAC. Which devices support LDAC? What is LDAC Codec? Does LDAC Codec make a difference? All these questions will be answered in this post.



Audio Codec
An audio codec is a set of instructions or codes that is programmed to encode or decode audio. Generally, audio codec is a program that compresses an audio file upon transmission or decompresses upon reception. Audio codec can be a device too.
The raw audio files can be really large in storage up to GBs and it is not quite efficient or practical to have a 3-5 minutes audio file consume so much of memory space and bandwidth. So, an audio codec algorithm was designed to retain the quality whilst representing the audio signals with minimum number of bits. And it hugely affects your listening experience with any audio output devices.
Lossy Audio: Lossy audio is a compression technique in which the audio files are compressed to a much smaller size than the original. Thus, resulting the loss of some audio waves during the process.
Lossless Audio: Lossless audio is a compression technique in which the audio files undergo digital compression whilst maintaining the original quality and size.
LDAC
LDAC is a closed source lossy audio coding solution developed by Sony originally for Xperia handsets. Later it was open (AOSP) to all OEMs supporting Oreo and up. Hence all devices running Android Oreo and up support the LDAC codec.
The LDAC technology supports high-resolution audio transmission over Bluetooth, unlike others, without any down conversions. It supports the transmission of up to 24bit/96KHz high-res audio files over Bluetooth. (About Bits- Lower the bits, faster the transmission, lesser the quality)
This proprietary codec from Sony has the highest quality support of 990kbps. LDAC comes with 3 transmission modes to choose from. Quality priority mode at 990kbps, Normal mode at 660kbps and Connection priority mode at 330kbps. (About Kbps- amount of audio data transmitted per second. Higher the bit rate, lesser the audio lost during transmission)
To provide you a better perspective, other competitors should also be taken into consideration. SBC has the maximum bit rate of 328Kbps, Qualcomm's APTX has 352kbps while APTX HD has 576Kbps.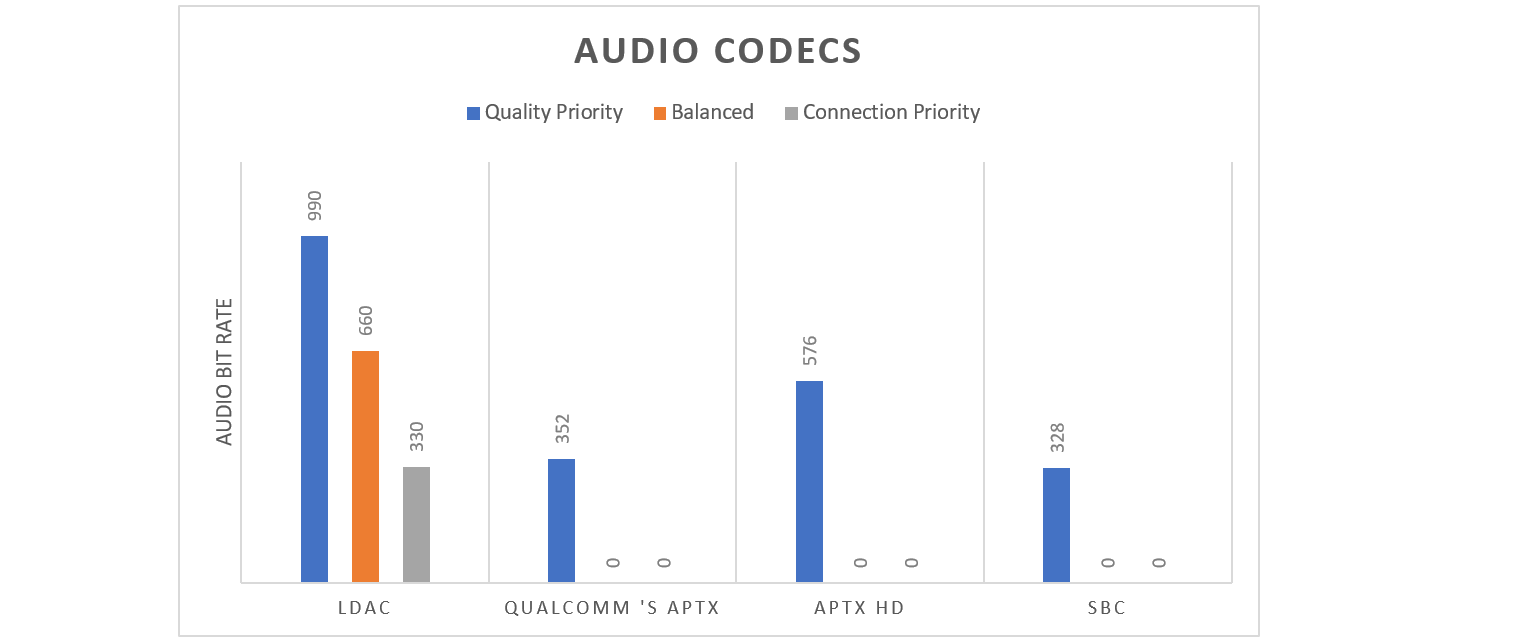 Basically, LDAC performs better than other competitors even at its lowest fixed mode. But it does not necessarily answer the difference it makes to a normal consumer.
 For Normal Consumers
For those people who consume audio for very basic or daily purpose, do these numbers really matter? In general sense, it is not going to matter quite a lot for normal audio consumers. And it is definitely not going to bump up a muffled audio into some high-resolution studio audio. What you hear depends upon your source material. The maximum bit-rate available on streaming sites like Spotify, Deezer Elite or Pandora is 320kbps which is readily available in all other codecs. But it definitely does matter for a stable connection because of the LDAC adaptive connection. Nevertheless, there is bare minimum to none difference if you do not have an audio device supporting LDAC on the other side. And the audio devices- headphones, earphones or speakers that support LDAC are quite expensive than others. So, a final verdict- if you are an audiophile using high FLAC audio files and/or own a premium audio device (like Sony 1000mx3), it makes a good noticeable difference. But if you are a casual listener, it doesn't matter as you won't find that bigger difference among aptX, SBC and LDAC.
Keep in mind, you must have a good source material in order make a difference. Different streaming services have different file formats. And, different file format has different audio bit-depth and bit-rates.
Some streaming site offer lossless audio while other offer lossy audio, here is the graph and their respective audio-bit-rates.
Also, if you have good ears and listen to lossless audio, here is the test you can take. Check these audios and see if your ears are trained to hear any difference.
MP3- Haywyre – Dichotomy (Soft Mix) 8MB
WAV- Haywyre – Dichotomy (Soft Mix) 46MB
(Also, you can check it alongside audio devices set at different codecs to catch the difference.)
Tech enthusiast and a movie fanatic.