For all the cinema lover who are out there searching for an efficient way to watch movie, don't worry. We have brought you a cool list of apps to watch your favourite movie and TV shows for free. A little word, since these apps are not paid subscriptions, they may not be as good and well maintained as the ones at the top tier. But we have tried our best to find out the most stable, efficient and ad-free apps for you.
Best Apps To Watch Movies For Free
(BEWARE: We do not take charges for the probable data fiddling.)
1. Cinehub
The first one to make the list is Cinehub. The reason for it is the user interface alone. Unlike other apps, which are filled up with ads and very bitter interface, Cinehub is the breath of fresh air. One can easily confuse it with other official streaming services. It has got a good collection of movies. Majority of famous movies are uploaded on daily basis. The only disadvantage of this app is- it has not got all the movies and TV shows. If you are into underrated/infamous movies, you probably would have a hard time finding it. But, nevertheless, it will get you covered for most of the times.
Features:
Totally free and no sign-up required.
Integration of verified subtitles.
Download option to watch offline.
Multiple servers for fastest streaming.
Daily updates on movies and TV-shows.
Website: CineHub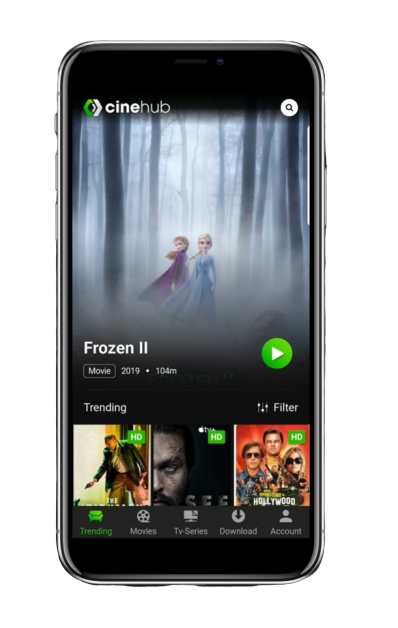 2. Popcorn Time
Yet another great app to stream is Popcorn Time. Popcorn Time once blew the internet with how professional it went. There are almost all movies and TV-shows ever made in this app. The main highlight of the app is its efficiency. Movies and TV-shows are divided into two different categories. They can be searched as per the genre, release date and/or quality. To be honest, it may have the best keywords suggestions among the apps. What makes it ever better is the option to choose the dubbing language, subtitles and quality servers. The UI is very professional and de-cluttered.
The only downside is you have to wait for few seconds for movie to pre-buffer so that you won't face any buffering while watching the movie. Yup, call that advantage or disadvantage. And sometimes you can be redirected to download VPN for security, which although can be disabled through settings, is a bummer.
Features:
Huge collection of movies and TV-shows.
Movies are the best version available on torrents for streaming.
Dubbing and Subtitles available on the go.
Download option for offline streaming.
Available for all platforms.
Popcorn Time Kids for family friendly cinemas.
Website: Popcorn Time
3. NightOwl
NightOwl is one of the ultimate destinations for smartphone users to download movies and TV shows. What makes them stand out is their storage- based on Gdrive which is more secure and efficient. Since the storage in based on Google drive, streaming and downloading is faster. It has very elegant UI and has a good blend of English and Hindi movies. The developers try to update movies as quick as possible. You can even request them to upload movies or series which are not yet available on the app. It has few to none ads and user experience is on par with other apps in the list.
Features:
Minimal, clean and super-easy UI.
Storage based on google drive.
Maximum speed to download and/or stream the contents.
Few to none ads.
Request feature to get you movies/series uploaded
Website: NightOwl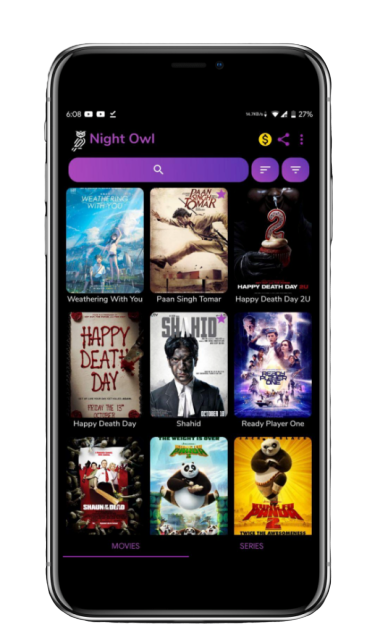 4. Maxtorz
The last one on the list is Maxtorz. Unlike others in the list, it is just for downloading movies. The reason it made the list is because of how convenient it is to use. It has a very simple UI and features movies that are updated on YTS servers. Instead of having to go the websites, you can just search for movies and download on the go. User can choose either a Piratebay server or the YTS server to search for movies. The only downside is you have to download a torrent manager (eg: UTorrent, Flud, etc) to download the files.
Features:
Minimal UI.
Easy search feature with multiple filters.
Direct search service from YTS and Piratebay.
Download options upto 3d.
Download: Maxtorz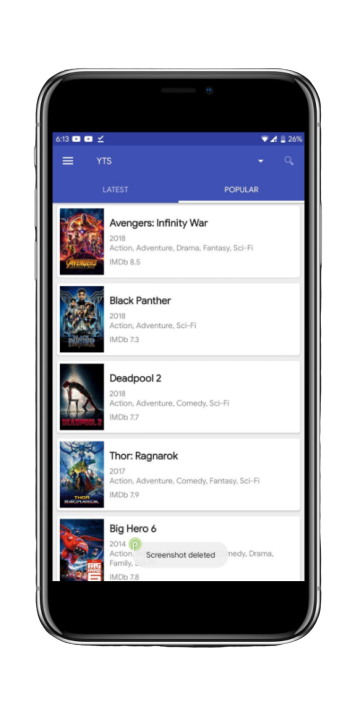 Parting Words
We have not included other apps since they are loaded with tons of ads and very inconvenient UI. Apart from this list, you can try apps like CinemaHD, MediaBox, Moviefire etc. which too have good collection of contents. The experience will never be same like subscribing an official streaming service. If you have enough money, it is always better to opt out for services like Netflix, Amazon Prime, Disney plus, HBO or Hotstar. One way, you will be respecting the films and filmmaker while enjoying the convenience and versatility.
Tech enthusiast and a movie fanatic.