After months of its global announcement, Microsoft has finally launched the Surface Laptop Go in India. The Surface notebooks are the flagship-grade ultra-portable laptops from Microsoft offering the most premium design in classy build quality. The "Go" models are the slightly toned-down version of flagship Surface laptops, in a more affordable budget segment. They are designed to offer the Surface-experience in somewhat a more value-for-money bracket. The new Surface Laptop Go is Microsoft's most affordable Surface laptop available in India, and let's see what it offers.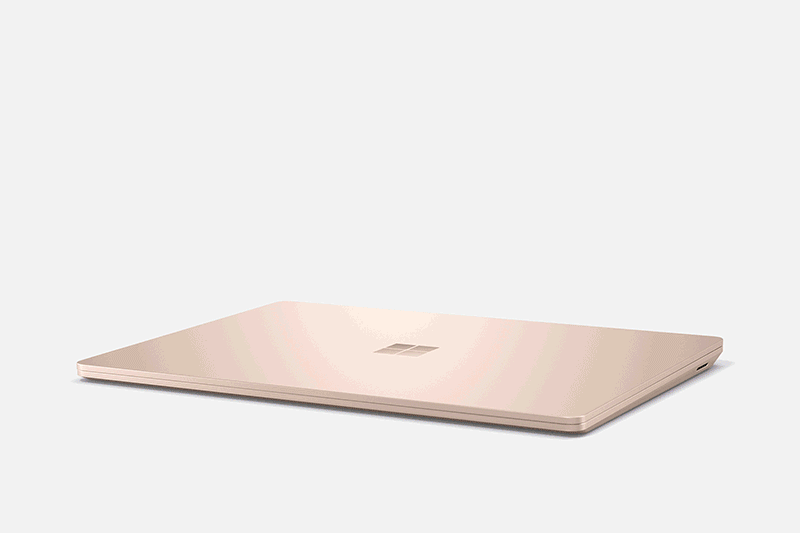 Surface Laptop Go Specifications:
Design & Build: Aluminum + Polycarbonate Build, 278.18H x 205.67W x 15.69D- mm, 1.1 kg (2.45 lbs)
Color options: Ice Blue, Sandstone, and Platinum
Display: 12.4-inches Pixelsense IPS LCD panel, touchscreen, (more than) 96% sRGB coverage, 67% NTSC, 60Hz refresh rate
Resolution: Sub-HD (1536 x 1024) resolution, 3:2 aspect ratio
Keyboard: Chiclet (plastic soft-keys), 1.3mm key travel
Processor: Intel Ice Lake CPU (Core i5-1035G1), 4C/8T, 3.6GHz Max Turbo Frequency, 8MB Intel Smart Cache
RAM: Up to 16GB LPDDR4x RAM
Storage:64GB eMMC / 128GB / 256GB SSD (removeable)
Graphics: Intel UHD Graphics (Integrated)
Audio: Omnisonic Speakers with Dolby Audio, 2x far-field studio mics
Battery Life:13hours (claimed by Microsoft)
Power Supply: DC-in, 39W adapter
Webcam: HD f2.0 camera (720p)
Connectivity: WiFi 802.11 ax (WiFi 6), Bluetooth 5.0
I/O ports:1 x USB-C, 1 x USB-A, 3.5mm audio jack, 1 x Surface Connect port
Price in India: 63,499 (4GB RAM, 64GB eMMC)
Surface Laptop Go Overview:
Design and Build Quality
The Surface Laptop Go's first impression can conceivably be deducted down to its upscale design and the premium build quality. It waves a thin and weightless body– measuring just about 0.62inches thick and 1.1kg light. The robust structure transpires from the combination of two materials. The undercarriage is made up of rubber-like plastic (polycarbonate resin + glass fibre), while the lid of the laptop and the keyboard deck rock an aluminium body. The edges of the laptop are circumnavigated, and the chassis remains unbevelled.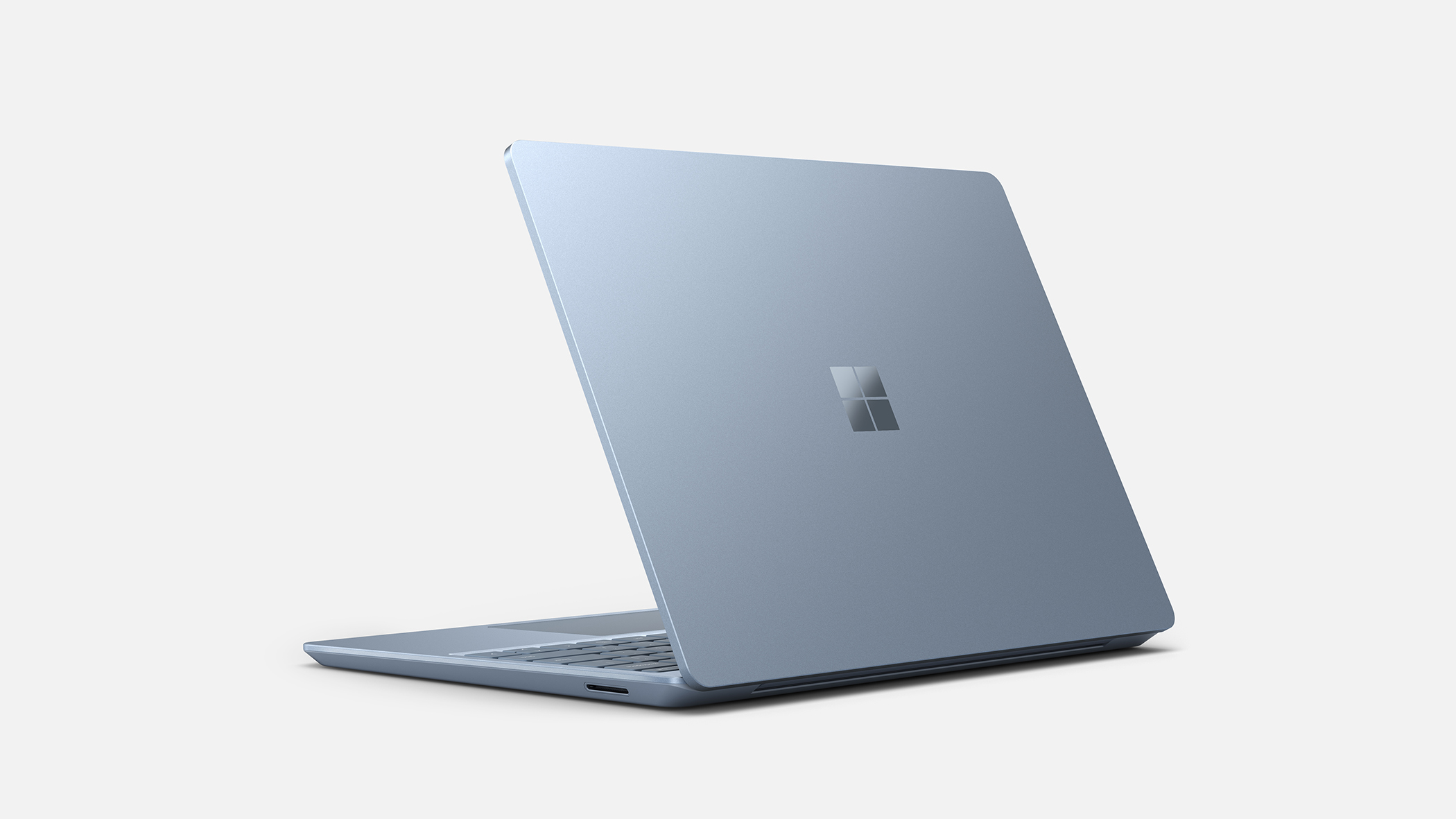 Similarly, the heat exhaust vent is placed hidden between the hood around the base, and there are no speaker grills in the laptop. You can also open the lid with one hand only, and the weight distribution of the laptop seems alright. Surface Laptop Go is ultra-portable, and one shouldn't worry about breaking it while carrying in the bag.
Coming to the style, Surface Laptop Go keeps things spiced-up with three different finishes- Ice Blue, Sandstorm and Platinum respectively.
Display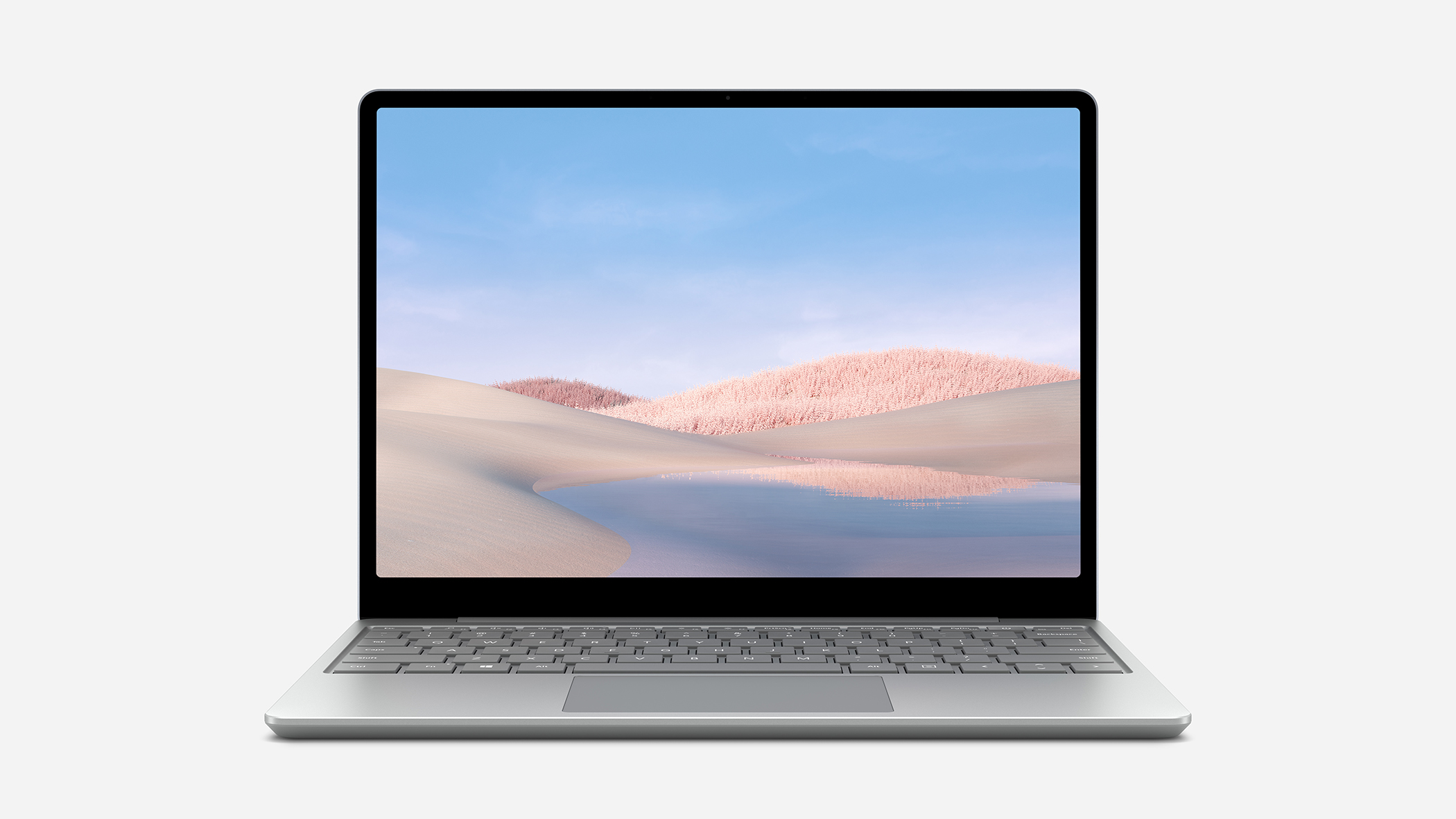 Microsoft's Surface Laptop Go comes packed with a 12.4inch touchscreen IPS display. The panel attributes the surface-signature 3:2 aspect ratio in a weird 1536 x 1024 sub-HD resolution. Correspondingly, there is a steep fall in pixel density as well, making only about 148ppi. Albeit, it still excels in terms of colour accuracy and brightness- scoring more than 102% of sRGB coverage and peaking at 300nits of brightness. It is a Pixelsense display and, therefore, supports touch gestures, but Microsoft hasn't added any pen support.
As stated earlier, the display is enclosed within the aluminium chassis and experiences less to none bending issues. However, the display doesn't twirl back to 180 degrees; so, beware of all those eager and anxious kids pulling your display down to the breaking point.
While we are at it, just above the display is a 720p resolution front-facing camera which in no way is extraordinary. Beside the webcam, there is a LED-indicator that turns green to indicate the state of the camera. However, there is no IR sensor for face recognition and sign-in via Windows Hello.
In my personal opinion, even though the display is quite below the quality amongst its surface brethren, it is still quite preferable. The display is colour accurate, sharp in contrast and bright when needed. And it would be quite useful for tasks like photo editing, media consumption and colour grading. However, you will still have to live with "relatively" pixelated display (upon getting near and squinting your eyes), and a sub-HD resolution.
Performance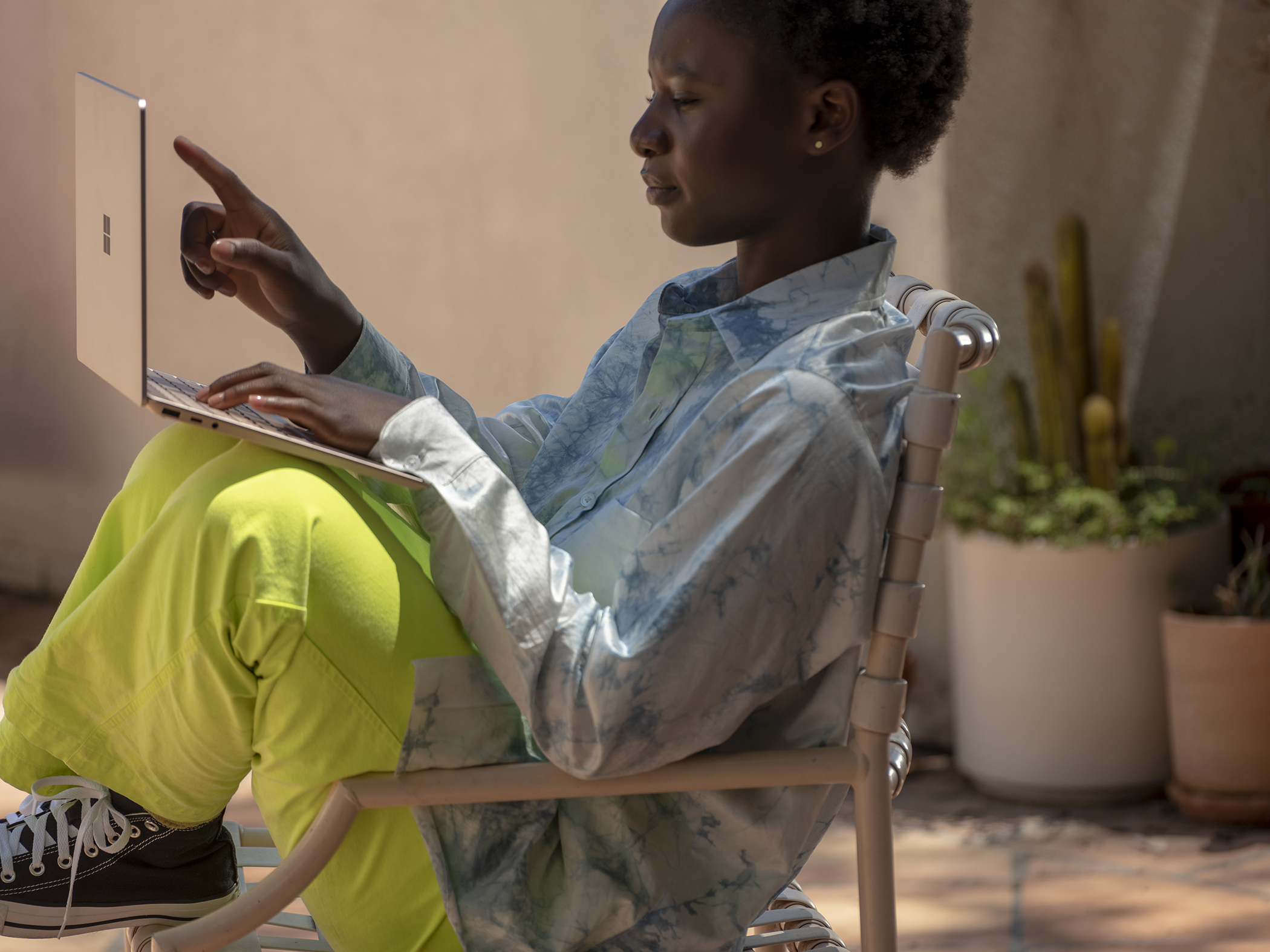 The Surface Laptop Go is powered by Intel's 10th gen i5-1035G1 "Ice Lake" processor. Introduced at the end of 2019, it is a quad-core CPU with a low base clock speed of 1GHz and can boost up to 3.6GHz for power-demanding tasks. The laptop has an integrated Intel UHD Graphics, which one shouldn't rely on for graphics overload. In the meantime, since it is an Ice Lake CPU, the Surface Laptop Go supports WiFi 6 (Intel's AX201 module) and Bluetooth 5.0 for wireless connection.
The processor is suitable for general-purpose computing and multitasking but isn't made for heavy gaming or intense 3D rendering. You can count on it for multi-tabbing, running a few extra windows, and even "light gaming" but it is not made for anything heavy, like- video editing, intense gaming or 3d rendering. Also, since it has a very closed heat exhaust system, the top bar of the keyboard can feel quite warm in heavy-scenarios.
Nevertheless, this is not the end of performance banter for Surface Laptop Go because there is another most absurd thing that overshadows it- the memory configuration, yes. The laptop comes with toy-like memory profiles offering just 4GB RAM + 64GB slow-eMMC flash-storage configuration for the base-variant. Anyhow, it also comes with 8GB RAM + 256GB SSD configuration for the higher model. But for anyone wanting to get the Surface Laptop Go, storage would be the biggest bottleneck instead of performance.
Ports and Audio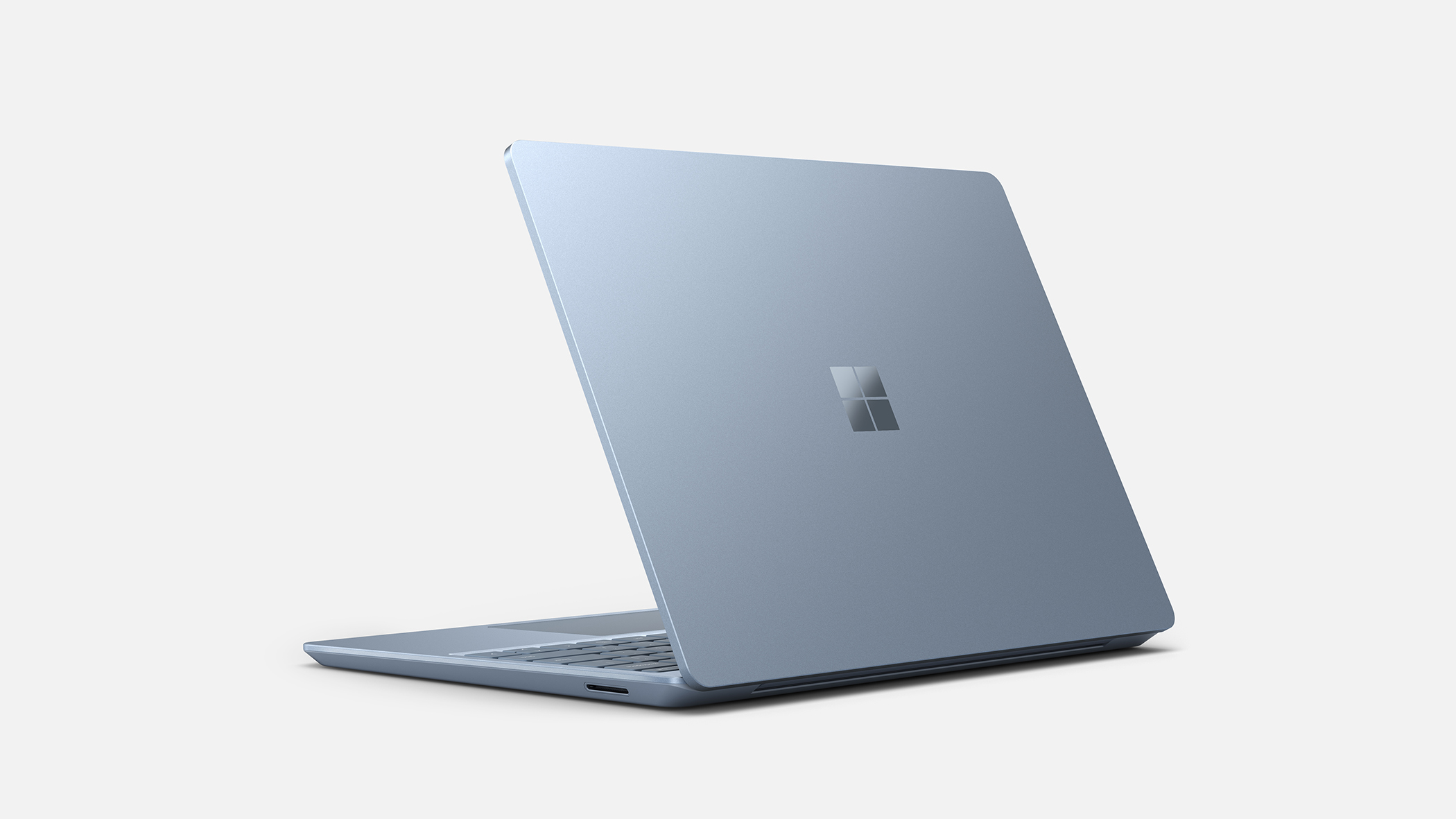 The Surface Laptop Go meets the essential port requirement by including one USB-A port, one USB-C port and an audio jack. The laptop's right side only houses a surface connect port, the port for Microsoft's propriety (magnetic) Surface-Connector. Besides, the USB-C port is also capable of charging the laptop.
For the audio output, the Laptop Go possesses a set of Dolby Audio speakers from Omnisonic. Since there is no specific grille for an audio outlet, the audio is vented through the heat-exhaust grilles and lack the touch of bass in them.
Keyboard and Trackpad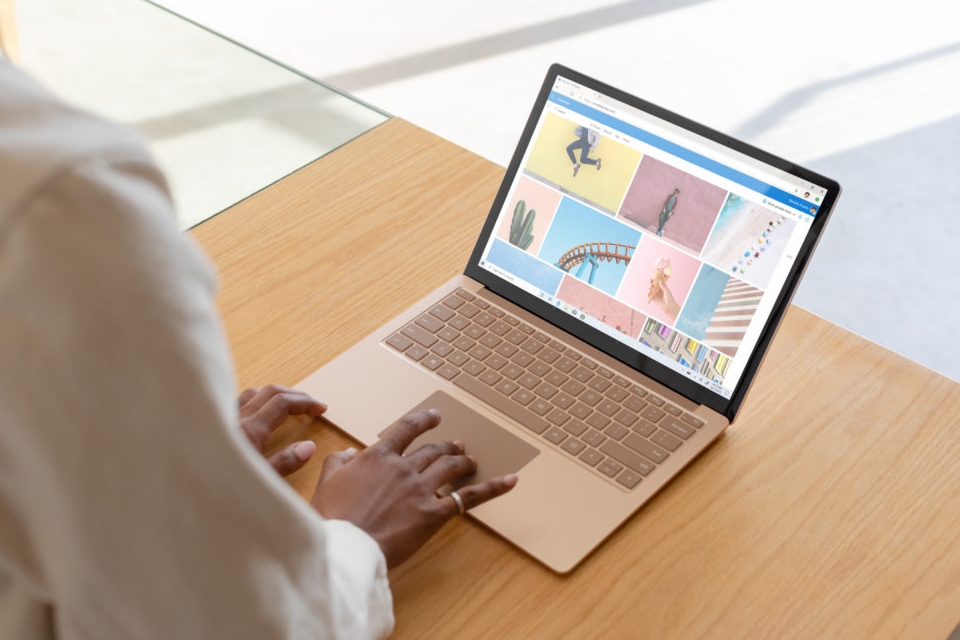 The keyboard spans across the laptop nearly to the edges and appears quite large considering the footprint laptop offers. It features chiclet keys made of soft-plastic and they trait enough key-travel (1.3mm, with satisfying feedback) for anybody to love them. A fingerprint sensor, except on the base model, is integrated within the power-button for security and sign-in. The power button has an illuminating light around the edges too.
Below the keyboard, there is a glass trackpad of 115mm x 77mm dimension. Like any other surface trackpad, it is quite sturdy and registers all of your inputs accurately.
Besides all, the keyboard, however, lacks backlit and has a very (very) little flex while pressing hard.
Battery and Charging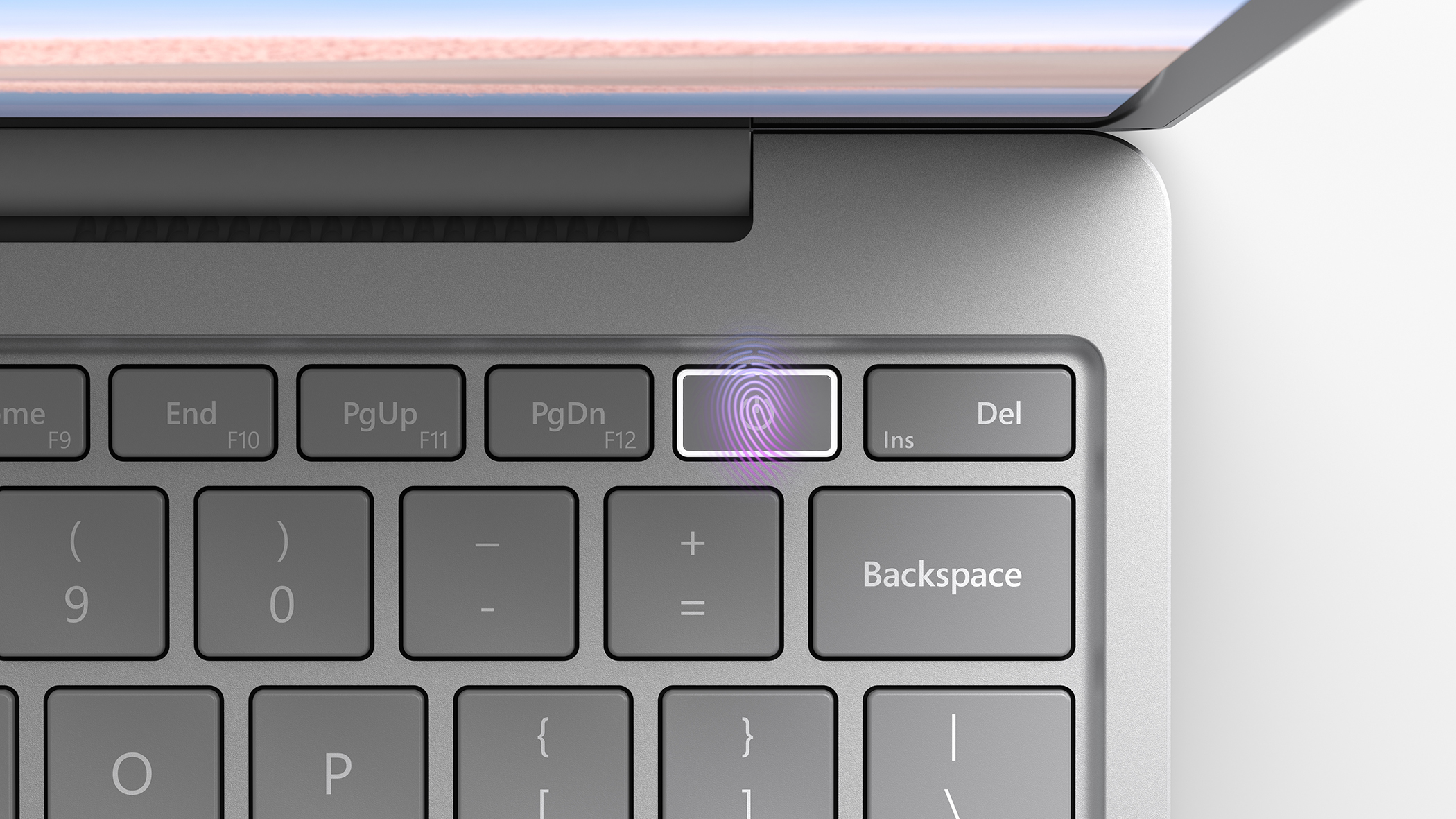 Since there is not much of a power-demand from hardware components in Surface Go, the laptop can last as long as 8-9 good hours. However, Microsoft claiming about 13hrs of typical battery life seems a bit of a stretch. The laptop comes bundled with 39W Surface connector, charging the laptop from 0-80% in about an hour.
Price & Availability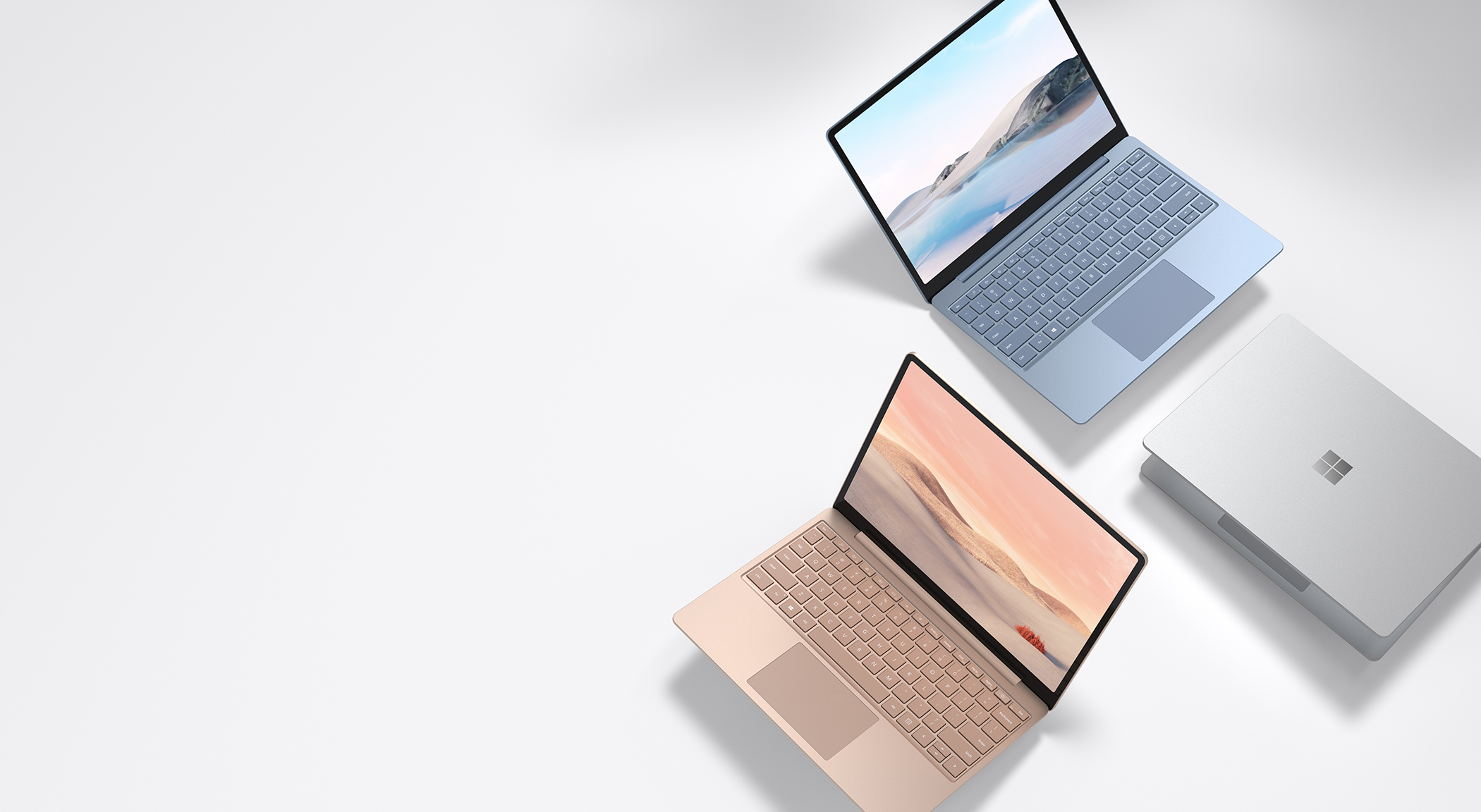 The Surface Laptop Go is available for orders all-around India through their partnered resellers, authorized retailers and online vendors.
| | | |
| --- | --- | --- |
| Device | Launch Price | Varient |
| Surface Laptop Go | Rs. 63,499 | 4GB RAM + 64GB eMMC |
| Surface Laptop Go | Rs. 76,199 | 8GB RAM + 128GB SSD |
| Surface Laptop Go | Rs. 92,999 | 8GB RAM + 256GB SSD |
| Surface Laptop Go | Rs. 110,999 | 16GB RAM + 256GB SSD |
Tech enthusiast and a movie fanatic.